CodeIgniter 4 Logo
Hello there again,
Since some us want to see the original logo (although I liked some of the new ideas) I present you the one below. Intentionally, I used 2 flames referring to the opening and closing php tags <>. Since I find the current one a bit bloated, I wanted to make it thinner and dynamic.  I used Raleway font from Google fonts which will not be a problem on the website as well. Plus, using 4 number as a text instead of using it within the shape is much more serious and professional in my opinion. Lastly, tried to align everything as perfect as possible.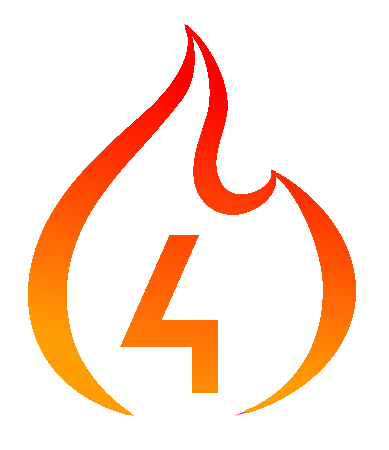 The number 4 is still not very good, but it's another thought.
Hello, just another approach to the logo
With the idea of 'C', with a '4' at the end, and the 'I' to close the impossible triangle.
The colors are really approximatives, I'm really ready to have your propositions if ever ?
"Tu ne feras point de machine à l'esprit de l'homme semblable."
(Franck Herbert, Dune)
Hi,
before the CI4 release i want to give my contribution to the community, (i started using CI 10 years ago and fell in love with it, the initial design was really cool and polished) and to have the feel going i want to propose the following for the ICON / LOGO and WEBSITE or any other application later.
main goal is to have a good representation of the framework's vision and keep traditions
Quick description:
- i had to remove the number from the logo, its not maintainable
- simplification but also more refined look
- choose an adequate logo type font
- colors must give an updated feeling, hence the vibrant colors
i can publish the source files if anybody is interested
Amarok2, your propositions are original, especially the second one, but neither of them corresponding to CodeIgniter's legacy.

Loopzzz, nice work. I like it. The shapes of the upper part should be tweaked I think. The tip of a flame looks thin and the belly over a fluid looks fat for me. But the problem is a fluid inside a flame. I saw this contradiction immediately. Argument, that it is a flammable liquid does not help it the case of a logo, which should work without explaining things to the people. Try to replace it with something else, for example with a smaller flame or a pile of sticks.
@loopzzz's versions of logos are far better than any other mentioned in these threads, wow
This is the best logo proposal. Although the pictogram above the letter "I" may be a bit forced in the centered vesion